communicate better with your football team
Glazier Clinics is excited to partner with BAND to help you win more football games! BAND is a free, all-in-one group communication app that helps coaches communicate easily with their parents and athletes. Download BAND today to step up your communication and keep your team accountable.
The BAND app is available on the Apple Store and Google Play. You can also use BAND through your desktop browser!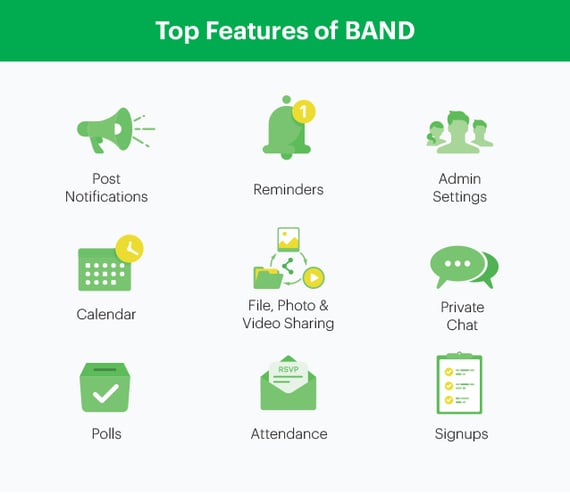 stay organized and accountable with your team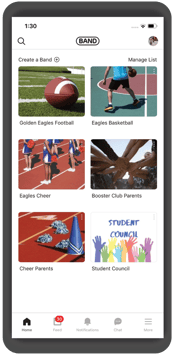 1. Instantly notify your team about schedule changes
2. Manage RSVPs for games and events in one place
3. Post game tactics and formations privately
4. Share game photos and footage in real time
5. Organize polls for food sign-ups
earn grant money for your team
Glazier Clinics and BAND are so confident that your communication efforts will be improved by using the BAND app that we have created a Grant Program. You could earn $200-$1,000 for your team simply by using BAND for your team communications this season. This Grant Program is for coaches who are new to the BAND app and adopt it as their main communication method for their High School or Youth Sports Program this season.
All you have to do is create a Band (group) for your team, invite your players and/or parents, and communicate with them through BAND for your 2020 season!
CLICK HERE TO LEARN MORE ABOUT THE GRANT PROGRAM
what football coaches are saying about band
"We are in constant communication with our players and parents using the BAND app. We also use BAND for team competitions. Coaches encourage competition with players by posting their workout times and rounds using the app; it allows us to constantly engage our players as a team, and keep parents involved with the excitement. The Band app has been invaluable these past few months." Coach Paul Golla, Garces High School
"The BAND app has been vital not only in communication with our players but also sharing football content. It allows us to stay in contact with players both individually and in groups as well as share our workouts. The Band app keeps track of team competitions and allows you to live stream and so many other things that will not only improve your communication but also bring your football family closer." Coach Chad Hetlet
join the conversation
We are so excited about the benefits of using BAND for team communication, that we have created the following Bands for you to join and stay up-to-date on upcoming e-clinics, coaching tips and so much more from Glazier Clinics!
Online Super-Clinic Band: Join this Band to get the latest schedule and info on our upcoming e-clinics!
Community Band: Join this Band to get the latest coaching tips and important information from Glazier Clinics!
CONTACT US
We are here to help! Please use the form below to contact us if you have any questions regarding the BAND app, whether you need help starting your first team Band or need more information on using the many features of the app.
And if you have already been using BAND for your team communication this season and need an update on if you qualify for the Grant Program, please use the form below.
We will get back to you shortly!