COACHING COACHES FOR

48 YEARS
Our mission is to train coaches to win on and off the field. We combine live football coaching clinics with 24/7 online coaching resources to give football coaches the best education in the country. Glazier Clinics has the best coaching clinics and the best digital coach training tools anywhere - period.
THE BEST
COACHING CLINICS
Why attend Glazier Clinics? Glazier Clinics provides coaches with the tools to be great at what they do:
We select champion coaches from all levels to teach at our clinics.

We select hotels that offer a great experience and great value to the coaches.

Our clinic schedules are packed with educational sessions.

We go beyond the X's & O's to teach culture, leadership, program management, and more.

Our 29 specialty clinics dive into topics far deeper than normal clinic sessions.
Unlimited coaches, unlimited clinics, and unlimited digital training with the Unlimited Coach Season Pass.
"My staff and I have been using the information from Glazier Clinics for several years. That off-season work really paid off this season as we finished 15-0 and were the #1 offensive and #1 defensive team in the state."
- CHRIS WOLFE
HEAD COACH, LOUISVILLE MALE HS, KY
52,411 SEASON PASS HOLDERS
70 MAXPREP TOP-100 PROGRAMS
6,582 PROGRAMS
THE BEST DIGITAL
COACH TRAINING
Glazier Drive is the most in-depth platform for online football coach learning. It includes:
40 complete coaching systems

Systems Q&As

2,000+ curated videos

New videos every week

Hundreds of topic-specific deep-dive digital events

Forums
"Glazier Clinics and Drive is a one-stop shop. When we are at a clinic or using Drive, we are like little kids in a candy store! Veteran to a rookie, every coach should use Glazier as a resource."



- TYLER BLIZZARD
FORMER CO-DEFENSIVE COORDINATOR, BEGGS HS, BEGGS, OK
30,000 GLAZIER ONLINE USERS
2,000+ CUSTOM CURATED VIDEOS
40 COMPLETE COACHING SYSTEMS
OVER 2 MILLION VIDEOS WATCHED SINCE LAUNCH
EXPERIENCE
THE SEASON PASS
"The Glazier Season Pass has been a tremendous resource for our coaches. It's simple, affordable, and improves every coach in the school."
- DARIN BOYSEN
EXECUTIVE DIRECTOR NEBRASKA COACHES ASSOC.
WHAT'S INCLUDED:
Unlimited Coaches
Unlimited Clinics
Unlimited Access to the Glazier Drive:
Football, Track & Field & Volleyball
THE GLAZIER
STORY
Frank Glazier was a legendary football coach from the Northeast who founded Glazier Clinics in 1976. He ran his football coaching clinics like he ran practice—blowing his whistle to start each session, demanding perfection from his speakers, and expecting attentiveness from his attendees.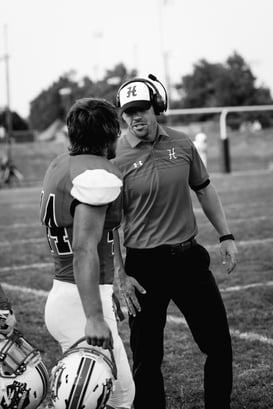 A football coach himself, current CEO Chris Coughlin saw how important Glazier Clinics had become to the football community and purchased the company from Frank's family. For the last 26 years under Chris's leadership, Glazier Clinics has developed along with the game of football. With dozens of locations nationwide and an unrivaled reputation for excellence, Glazier Clinics is forging the next generation of top coaches.
Our mission remains the same today as 48 years ago: to bring coaches the best football education in the nation. Our coaches share a strong desire for knowledge, our speakers cover the most topics, and teams led by Glazier coaches win competitions because of it.
We still offer live coaching clinics nationwide, and the 2020 release of Glazier Drive made clinic-quality education available to coaches year-round.
TRUSTED GLAZIER PARTNERS
These companies make your Season Pass affordable. Please give them a shot at your business.