In this drill the quarterback should deliberately throw while off-balance so that when you are forced to do this in a game you will realize it is now necessary to put considerably more power into his throw in order for the ball to carry some distance. Ordinarily when throwing to a receiver 15 to 20 yards away, you would step at the receiver and it would be necessary to throw particularly hard.
When throwing the same distance while fading back away from the receiver, your momentum is going in the other direction, and it is now necessary to throw with the same amount of power that you would normally use on a 30 to 40 yard pass.
Otherwise the ball would drop short, which is one of the major reasons why passes are so often intercepted when a quarterback throws off balance. In this drill; throw while fading back, while throwing laterally to either side, or when fading back at a 45 degree angle in either direction. With practice the quarterback will find that he can still throw fairly accurately, once he realizes how much extra arm whip is necessary to make the ball reach the receiver.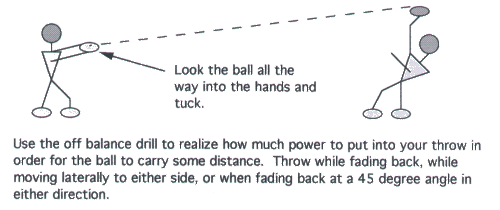 Courtesy Coach Jerry Campbell